Greetings All!
Welcome to D Glenn 3D Entertainment Web Site.
Hi! I am David Glenn! D Glenn is the my Engineering arm geared solely to the entertainment market! Most of my most resent work can be found on my Facebook page or if your interested in media that I have done, you may what to check out my YouTube page. When time permits, I update this page with some of the most current stuff that I can, so this page will always be constant work in progress,but it will improve over time.
HIGHLIGHTS:
UNITY 5 is Here and I can't be Happier!
The release of Unity 5 is a big news around here. For the first time I have the power of building displays and simulated elements in almost any format that I can think about - Including WebGL.
With Unity, game development has moved beyond the build from your wits strategy that was a part of development when I was working in gaming - a short 9 years ago. This makes development for games fun and even has some advantages for other forms of entertainment as well.
Here are some videos that I have made on how to make a basic game in Unity.
Unity5 Lesson 1:Making a Simple Game Project in Unity 5!
Unity 5 Lesson 2 : Replacing the First Persion Player With a Car Player!
More to Fallow!
Using OSG's Virtual Planet Builder!
This past year presentation to SIGGRAPH for the OSG BOF was a tutorial on using a terrain tool called Virtual Planet Builder.
Part 1: Here I go into compiling this tool, including getting all the elements for Windows using Visual Studio!
Part 2: I go into the use of the tool itself, including getting all the data that you will need!
My Animation Work!
Lately, I have been researching alternative methods of animation rigging and rendering in real time using a variety of tools and methodologies. Most of these tools are born out of the video gaming industry given that the technology has advanced to the state that is close to the quality of cinematic and HD broadcast television. This has all led up to the current use of the Unity Game Engine as a rendering tool for experimentation in real time animation. Experiments using the Unity Game Engine for animation have been done before, but a proper protocol for usage has yet to be established that is practical to the professional animator. For example: there was some lessons learned while looking at how others have used game like sequences to control animated elements that are not used in gaming but are somewhat kindred to rigging systems in VFX and Animation tools that can now work in real time.
My Modeling Workshop!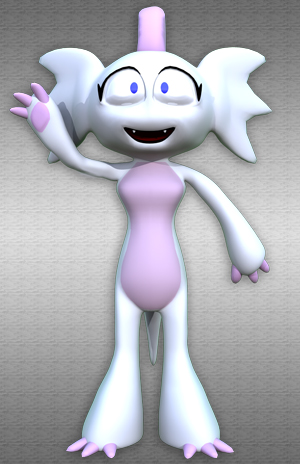 I have been working away at some models this year. One that I have almost finished is a model of a web comic character called Shelly by Robbie Allen. This is a drawback to the simpler characters that I should be doing more of. As before, I did this one starting with Lightwave 10, but migrated to Lightwave 11 as soon as it got stable to use. Every year, I keep telling myself that I should go to using Maya or other modeling packages but I've been too busy to switch over. I have a nice video of this model on my You Tube page.
I did do a brief experiment with Anime Studio Pro with a drawing of this figure. Anime Studio Pro has a function that allows you to transform a drawing into a morfable object I did some animation. It came out rather goofy, but I'm sure maybe that I can do something else later on that might be useful.
My You Tube Videos:
I have done some odd series of videos, just for fun, but first my first video from Comic Con. I nice video of all the figures and toys that I saw there.
Next, the first of a series of Videos I did with some of my toys again. This time with a Miku Figure and a Pixar Teapot called " Miku Vs. The Pixar SIGGRAPH Teapot"
Well that's about it for now. Remember that your welcome to see my latest stuff at my Face Book web page Click Here and stay tuned!
Enjoy!!